410 Challenger | Polycraft
If you are a keen angler, or enjoy just getting out and exploring the rivers and dams, then the Polycraft 4.10 Challenger is the boat for you.
Suitable for both inshore and offshore boating
Heaps of storage
Awesome stability at rest
Available in 5 models and 8 Colours
Available in survey
Design in detail
Our Polycraft Challenger model goes to show that while you can't go past an original, you can keep the essence of a good thing and make it even better. This boat has been recently designed to make the most of the polyethylene construction. A few key design details are featured below.
Specifications
Length
4.10m
Length on trailer
5.60m
Height on trailer
1.20m
Width on Trailer
2.15m
Beam
1.85m
Depth
0.75m
Weight
280.00kg
Shaft Length
20.00 inches
HP Rating
50
Capacity
4 People/320kg
Colors
Apple Green
Regal Blue
Teal
Torris Blue
White
Yellow
Gull Grey
Light Gray
Features
Standard
Optional
Anchor Well
Carpeted Floor
Cleat
Carpeted Front & Rear Lids
Front Casting Deck/Storage
Rear Casting Deck Insert
Stainless steel Hand Rails
Rear Storage Bait Box
Bow Rail
Side Pockets
Rod Holders
Ski Hooks
Engine well
Boarding Ladder
Pin Stripes and Polycraft Logo
Side Pockets
Winch Point
Electric motor bow mount Bracket
Non Slip Floor
Survey Standard
Stainless Steel Bow Plate
Extra Rod Holders
Navigation and anchor lights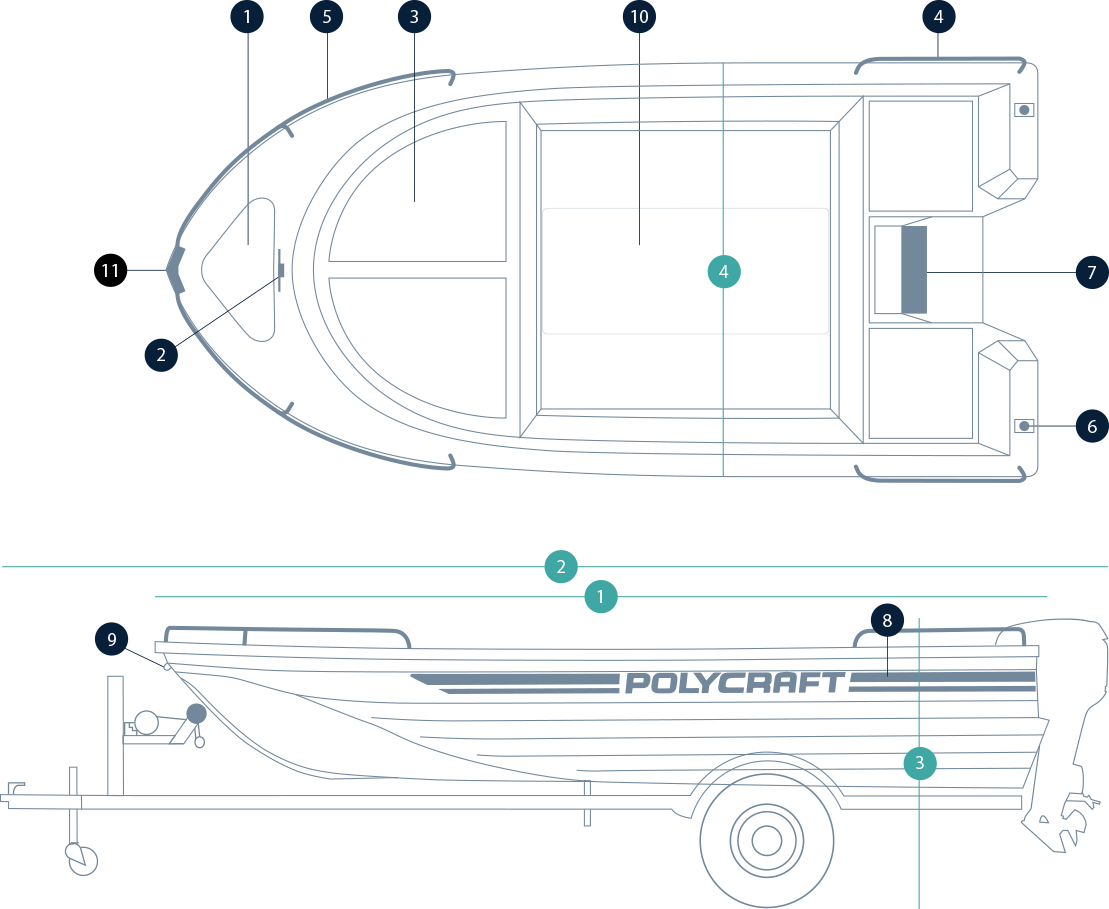 Specifications
Length
4.10m
Length on trailer
5.60m
Height on trailer
1.70m
Width on Trailer
2.15m
Beam
1.85m
Depth
0.75m
Weight
295.00kg
Shaft Length
20.00 inches
HP Rating
50
Capacity
4 People/320kg
Colors
Apple Green
Regal Blue
Teal
Torris Blue
White
Yellow
Gull Grey
Light Gray
Features
Standard
Optional
Anchor Well
Carpeted Floor
Cleat
Carpeted Front & Rear Lids
Front Casting Deck/Storage
Rear Casting Deck Insert
Stainless steel Hand Rails
Rear Storage Bait Box
Bow Rail
Side Pockets
Rod Holders
Ski Hooks
Engine Well
Boarding Ladder
Pinstripes with Polycraft logo
Side Pockets
Winch point
Electric motor bow mount Bracket
Non-slip floor
Survey Standard
Pedestal Box & Seat
Extra Rod Holders
Side Console
Navigation and anchor Lights
Non Feedback Steering
Extra Passenger seat and Pedestal box
Rear storage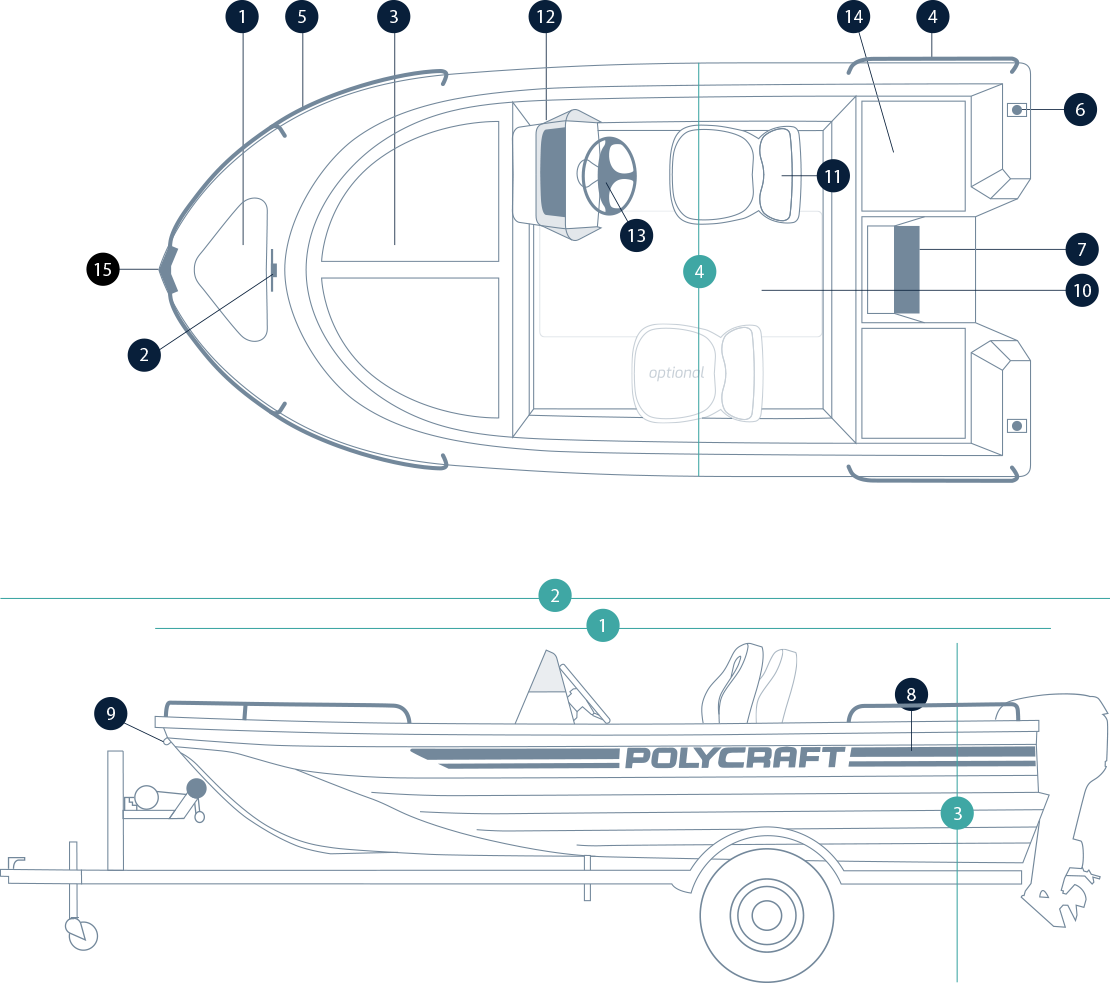 Specifications
Length
4.10m
Length on trailer
5.60m
Height on trailer
1.95m
Width on Trailer
2.15m
Beam
1.85m
Depth
0.75m
Weight
305.00kg
Shaft Length
20.00 inches
HP Rating
50
Capacity
4 People/320kg
Colors
Apple Green
Regal Blue
Teal
Torris Blue
White
Yellow
Gull Grey
Light Gray
Features
Standard
Optional
Anchor Well
Carpeted Floor
Cleat
Carpeted Front & Rear Lids
Front Casting Deck/Storage
Rear Casting Deck Insert
Stainless steel Hand Rails
Rear Storage Bait Box
Bow Rail
Side Pockets
Rod Holders
Ski Hooks
Engine well
Boarding ladder
Pinstripes with Polycraft logo
Side Pockets
Winch Point
Electric Bow mount bracket
Non-slip floor
Survey Standard
Centre Console incl Screen Rail
Extra Rod Holders
Non Feedback Steering
Navigation Lights and anchor lights
Windscreen CC
Rear storage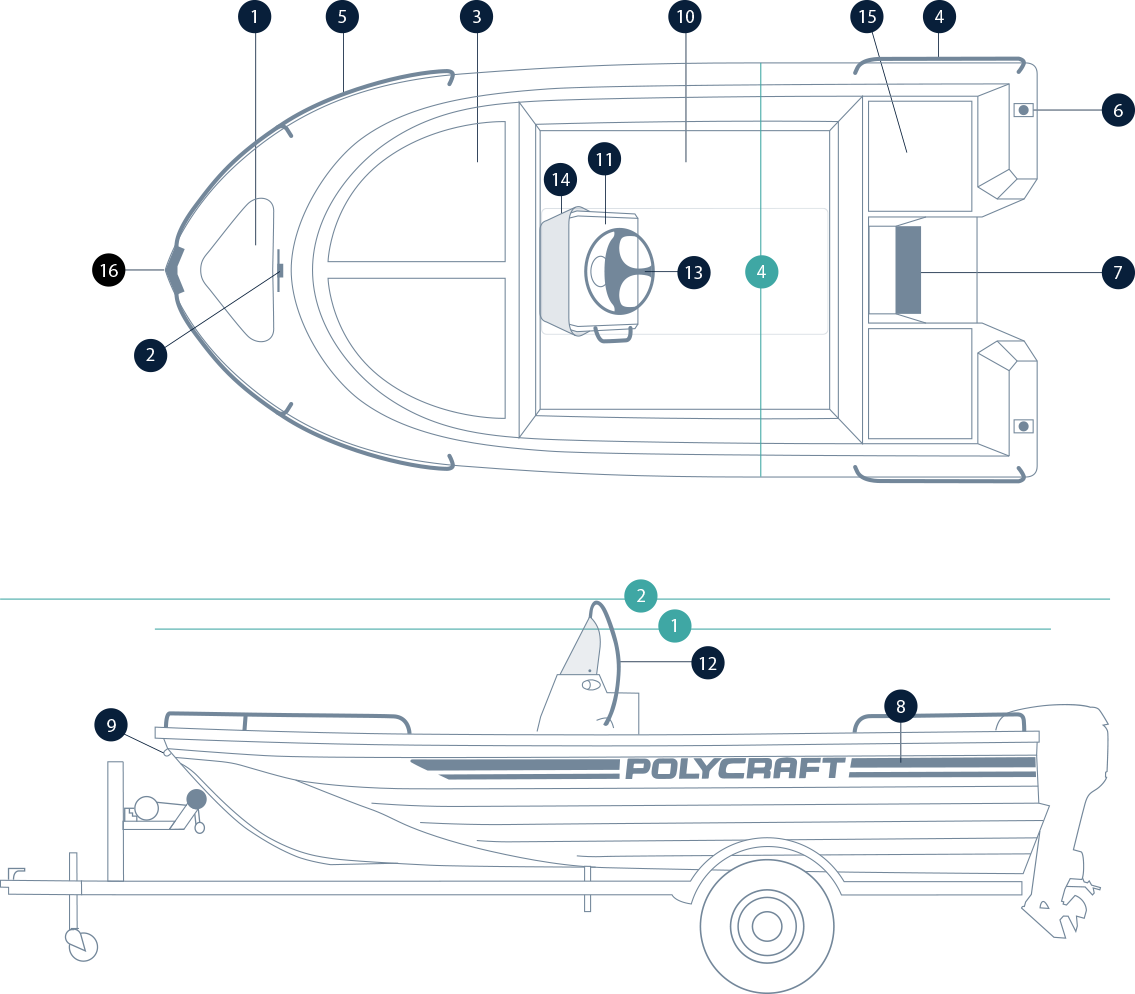 Hear from our customers
"Polycraft was the only choice for my boat business - hardwearing, no maintenance and easy to put into survey with the survey standard foaming option."
Rob Howell, Owner/Operator
www.lakem.com.au